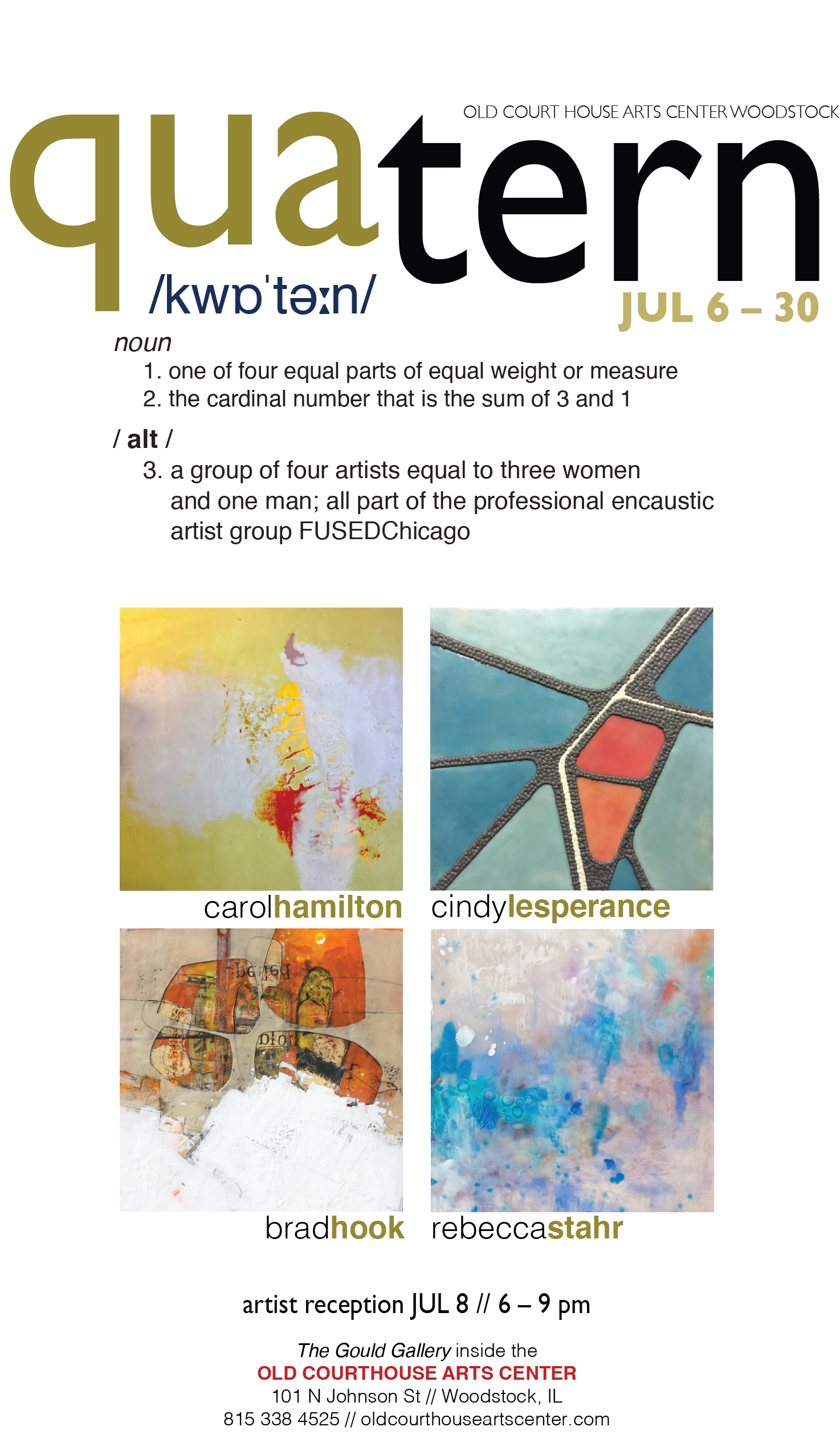 Brad Hook is an encaustic artist working out of his private studio in a north suburb of Chicago. His art has been exhibited in many galleries and shows throughout the Chicago area. His technique of building and removing layers of wax results in textured surfaces inspired by the imperfections of life and wear. Brad has been a long time member of FUSED Chicago.
Cindy Lesperance is a member of the Northwest Area Arts Council, the Elmhurst Artists' Guild, the Alliance of Fine Art and FusedChicago where she serves on the board. Her art has been exhibited and has earned awards in many juried shows and competitions, galleries, and museums throughout the Chicagoland area and across the country. She has evolved a personal style that is highly sophisticated and meticulous in attention to craftsmanship, applying minute droplets of wax, one-by-one, to produce a tactile pattern that invites the viewer to touch.
Carol Hamilton has been painting most of her life. Her aesthetic roots are in the western landscape and science. She received her MFA in painting from the University of Wyoming. While living in the austere beauty of the Sonoran desert she began working in encaustic and experienced a transformation her work from figurative to abstraction. Her work centers on the contemplative. Hamilton is a member of FUSED Chicago, the Elmhurst Art Guild and the artist collective INTERSECT. She is a resident artist at the Starline Factory Gallery in Harvard, Illinois. Carol's work is in public collections and private collections.
Rebecca Stahr is a visual artist living with her husband and son in conservation community surrounded by the beautiful native prairie of northern Illinois where she also maintains a working warehouse studio space. Rebecca is a member of FUSED Chicago and Dandelion Gallery in Waukegan. For over the past 10 years, Rebecca has been struggling with a growing battle of auto-immune illness and chronic pain. She has learned to use this pain as a lens which informs her art. Rebecca's art is inspired by being able to find beauty and value in the broken, as well as the impermanence and cycles of life and nature. The works created point toward a reflection of deeper value and identity and enables compassion for humanity's brokenness and imperfection.